After blasting Sony in my review of the Connect service, it's only fair that I list some of their cooler announcements that have hit the Net today.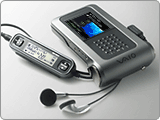 Sony has finally launched a real iPod competitor. The VAIO pocket appears to be slightly larger than an iPod and features a color screen, ability to sync with digital cameras via USB, 20GB of storage, video playback (where does this video come from?), and weird G-Sense touchpad that you have to watch the flash animation to even begin to grok (instead of a dial, it's a 2-D raised grid that you move your thumb across). It's only in Japan, and it also costs over $500, so Apple probably isn't going to worry just yet. It also doesn't appear that it will win any beauty competitions.
In typical Sony fashion, it comes with an uber remote with LCD display. Also, in typical Sony fashion, they've stubbornly insist on converting all of the music into ATRAC format when transferred. I've already discussed how annoying this is. To me, this one annoying feature ruins the whole deal. Another deal-breaker for me is the fact that you have to use Sony's SonicStage player, which I also already discuss my annoyances with, as have others (Note: apparently Sony has already announced that there will be an update to SonicStage by summer's end to address the rampant criticism).
Another bit of news, and my reaction on this isn't as mixed, is that Sony has released a not-quite tablet PC, that IMHO is pretty innovative. It's very small as computers (click on the photo for more images), and I think it would be a good device to have around the house for channelling your media. In that regard, it may be difficult to find a niche: the screen is too small to make it usable as a day-to-day laptop, and despite the remote and earbuds it's not really a portable music player, so it all comes down to how many people have an extra $2K to spend on a computer that's easy to tote around the house as well as read e-books on (a market that still as yet has not materialized). I withhold judgement for now as to whether or not it would be useful for watching movies on airplanes, as I can't tell whether or not it has a built-in DVD drive.
Finally, Sony has finally released a widescreen laptop.