I miss Patrick Baudisch's user studies -- not too many research projects let their test subjects play video games in order to contribute to 'science' (see Focus+Context Large Displays). He's been busy since he moved to Microsoft Research, so I thought I'd give his latest research some lovin' (in collaboration with others). Although I can't find any game-based demoes for the projects I've posted below, I hope that he's still keeping his research subjects entertained.
On the small display front, there's Summary Thumbnails, which takes some similar ideas to Popout Prism's, though applied more generally and with larger thumbnails. The gist is that if you are trying to read a Web page on a small display (e.g. PDA), instead of shrinking everything uniformly to fit on the screen, try to summarize the various regions of text and increase the font size -- that way you get a readable summary of the text, rather than an unreadable, but complete, version of the text.
Another project of his that tackles the same issues is Collapse-to-Zoom. Rather than viewing the page as a whole, you can select regions of text that are unimportant, which then disappear, allowing the rest of the page to expand.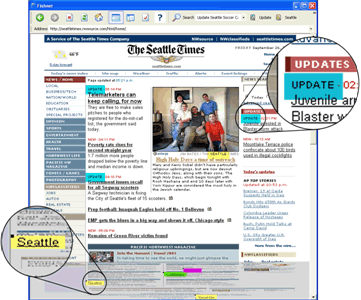 One other project in a similar vein is Fishnet, which is appropriate for both large and small displays. It is a Web browser that makes the entire page visible in your browser window. In order to accomplish this, it shrinks regions of the page you're not looking at, while still preserving some of the visual structure. It also uses the popout concept from Popout Prism to make it easy to identify portions of the page that contain keyword text that you may be searching for.
Several of his projecs also deal with ways to cope with larger displays. Mouse Ether, for example, makes it easier to drag items with a mouse when you have multiple monitors -- often a mouse cursor will 'jump' between displays because of the different resolutions of the displays. There's also High-Density Cursors, which is an improvement over the Windows mouse trails and addresses the "where is my cursor?" problem. Finally, there's Drag-and-Pop, which is a form of more intelligent drag-and-drop. The system figures out the possible places you could be dragging an item and moves those places closer to you (temporarily), saving you extra hand movement.